ATI recently offered up some new low and mid range cards for consumers and we have one of them here today. Sapphire has sent us a Radeon X1650 Pro to take a look at and we'll see if it's a good lower mid range offering. Does it stand up to their budget Radeon X1300 XT Overclock Edition? How does it fare with a similar priced NVIDIA 7600 GT card? Let's take a look.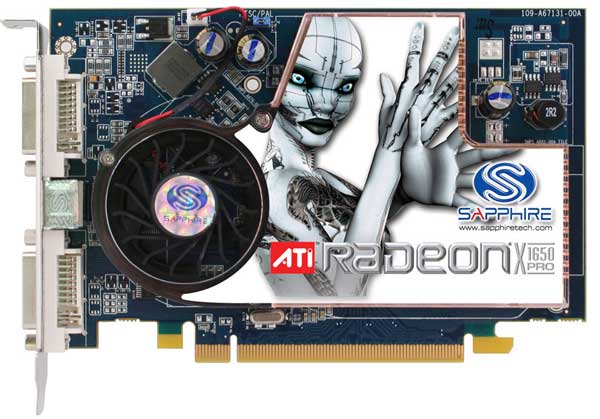 The Radeon X1650 Pro card consists of the RV535 GPU running at 600MHz. 256MB of memory with the speed at 1400MHz DDR is
onboard
. Like all of the other 1K line of VPUs from ATI, support for Pixel Shader 3.0 and Vertex Shader 3.0 is in there. 4 Render Output Pipelines with 3 pixel
shader
units on each ROP along with 4 total TMUs round out the video card architecture. If all this sounds familiar it should as this is exactly the same configuration as the Radeon X1600 XT but with a minor increase on clock speed. The Radeon X1600 XT ran at 590MHz GPU and 1380MHz DDR for the memory so it's a negligible increase. ATI really just
rebranded
the Radeon X1600 XT and put some minor clock increases into it. It's not a new practice but one that is a little annoying to me. If you're going to put out product with a new name,
atleast
do more than market the card without some good improvements. Even so, I can understand the business decision to try and move some cards under a different name until your next generation comes out.
Physically, the card features a blue PCB rather than the usual red ones that ATI cards come in. The
heatsink
and fan cover up most of the front of the card. There's no external power connector here as the PCI-E slot supplies all the juice the card needs. It's also a small sized card lengthwise so you should be able to put this product into most cases even those with little room for expansion cards.
On the bracket, the card has a connection for a pigtail and dual DVI-link connectors for two digital connections. You'll be able to hook this card up to two monitors with digital connections. For connecting to TVs, there's one connection for the included pigtail.
The bundle is pretty light for this setup as it doesn't include Sapphire's nice Sapphire Select DVD where you can choose a few games to keep. Instead, you get one copy of The Da Vinci Code, which isn't a very highly rated game in itself. Other than that you get a Cyberlink DVD software and the Sapphire driver disk. Two DVI to VGA connectors do come with the card along with a pigtail featuring component outs as well as a composite cable and converter in case you want to connect the card to a TV that has the old connection.
Since the latest Catalyst 6.8 drivers don't support this card, we use the included driver disk to run the tests. I usually like to use the ATI's drivers when doing tests but as of this writing, I wasn't able to. To test, we'll put it up against a NVIDIA 7600 GT card that's in the same price range and Sapphire's own X1300 XT Overclock Edition that's about $30 cheaper. 91.47 drivers were used with the NVIDIA card.Our test setup included:
AMD64 X2 3800+
ECS KA3 MVP Extreme
2 GIG Crucial Ballistix PC2-6400 (2 sticks 1GIG each)
Seagate 160GIG 7200RPM HDD
Windows XP w/ Service Pack 2
Catalyst drivers from the package
First up is Futuremark's
3D Mark 06
.
3DMark®06
is the worldwide standard in advanced 3D game performance benchmarking. A fundamental tool for every company in the PC industry as well as PC users and gamers, 3DMark06 uses advanced real-time 3D game workloads to measure PC performance using a suite of DirectX 9 3D graphics tests, CPU tests, and 3D feature tests. 3DMark06 tests include all new HDR/SM3.0 graphics tests, SM2.0 graphics tests, AI and physics driven single and multiple cores or processor CPU tests and a collection of comprehensive feature tests to reliably measure next generation gaming performance today. We tested at the standard 1280x1024 resolution.
Quake 4
is Raven Software's true sequel to the id classic. The game uses an improved
Doom 3
engine for some great graphics. For the test we ran a demo featuring a few enemies and some squad mates. We set the graphics qualities at maximum and ran it on three different resolutions.
One of the surprise hits out of Monolith was
F.E.A.R.
This supernatural FPS looks incredible and really pushes a video card to its limits. For the benchmark, we ran three resolutions using the in game benchmark with all the settings set at max.
Valve's game uses their own Source engine to produce some impressive results especially giving us such features as HDR and some great physics. The Lost Coast demo was used in the benchmark with all settings set at maximum. Three resolutions were selected for this test as well.
Prey
has been in development for many years but the folks at Human Head finally released the game this year. The game utilizes the
Doom 3
engine like
Quake 4
and features the really cool Portal technology to garner some interesting game play aspects. All settings were set to maximum and three resolutions were chosen for the test.
The Sapphire Radeon X1650 Pro didn't fare that much better than the X1300 XT OC card that Sapphire puts out. The NVIDIA card absolutely crushed it though. For the money, I'd suggest picking up a NVIDIA GeForce 7600 card as you get a lot better performance at the same price or a little bit more. You'll lose the AVIVO capabilities if you go with NVIDIA so spending $30 less for the X1300 XT OC edition would net you a slight performance decrease but get you the same capabilities minus one DVI connection. The Sapphire Radeon X1650 Pro is in a tough position and it's really going to be hard to recommend this card over the other two mentioned here. Also, if you really would like this card, you can opt to spend a little less and find an older Radeon X1600 XT and get the same features and performance out of it. As it stands right now, I would suggest other cards if you are thinking about buying a Radeon X1650 Pro.