We seem to be getting a lot of mid range cards here at Gaming Nexus and while it's great to have the most powerful card out there to test, the mid range area shouldn't be overlooked. PowerColor is one company we have never tested and this will be the first card from them that we have on board today. PowerColor is an ATI solutions provider and today we're going to look at their X1600 offering.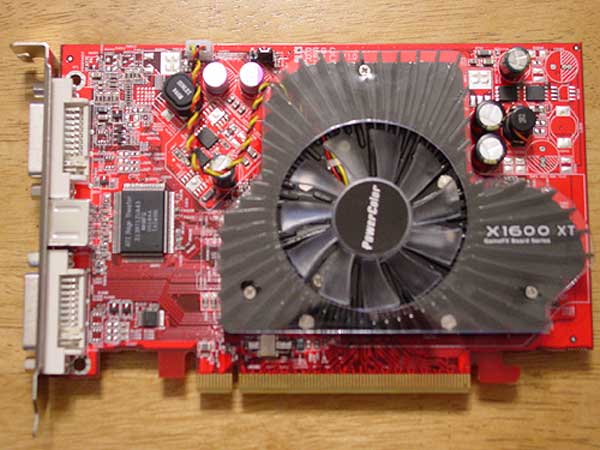 The PowerColor X1600 XT Bravo Edition is based on the RV530 chip. The card sports core clocked at 600MHz with the memory clocked at 700MHz DDR. There are 12 pixel pipelines and 4 TMUs. Like all current ATI solutions, this card is Crossfire ready so if you want to potentially double your graphics power at a modest price, you can tag another one of these bad boys on a Crossfire board. This is the most powerful of the X1600 line with the pro coming in at a slower 500MHz core and 400MHz memory speed. The card has 256MB of memory, which should be enough for a mid range card.
Packaged in a grey box with a female standing in front of a robot on the front, the card is the traditional red PCB with a PowerColor branded black heatsink and fan combination. The cover for the cooling system is a clear plastic piece so you can peer underneath. There isn't a need for an external power supply as the PCI Express port puts out enough juice to power this card. Other than the PowerColor logo in the center, the card's look is pretty standard for ATI cards.
On the bracket are two DVI outputs. If you have two digital LCD monitors, this is a nice option as you won't be hunting for a converter to plug your card into. Included with the card an S-Video cable, VIVO connectors, component connectors, and a DVI->VGA adapter. My package didn't come with a game but there seems to be other packages of that do include one. The only game included in the bundle is one I've never played in Pacific Fighters so I can't tell you if it's any good or not. The game has a 78% average on Game Rankings so it shouldn't be too bad. All in all, the bundle you get is on the light side but you still get the cables you'll need to input or output video to and from the card. The regular X1600 XT from PowerColor does not come with the same amount of IO cables.
A quick search on PriceGrabber yielded a $169 price tag from one vendor: NewEgg.Com. For near the same price, say $30 less, you can also grab a GeForce 6600 GT which is what we are comparing to today. We don't have a 6800GS on board to test as that's also close to this card's price point as well.
Our test setup included:
AMD64 3800+

512MB PC3200 RAM

ECS KA1 MVP Crossfire motherboard

Windows XP w/ Service Pack 2

Maxtor 120 GIG 7200RPM HDD
3DMark®06
is the worldwide standard in advanced 3D game performance benchmarking. A fundamental tool for every company in the PC industry as well as PC users and gamers, 3DMark06 uses advanced real-time 3D game workloads to measure PC performance using a suite of DirectX 9 3D graphics tests, CPU tests, and 3D feature tests. 3DMark06 tests include all new HDR/SM3.0 graphics tests, SM2.0 graphics tests, AI and physics driven single and multiple cores or processor CPU tests and a collection of comprehensive feature tests to reliably measure next generation gaming performance today. We tested at the standard 1280x1024 resolution.
iD Software's
DOOM 3
offers great visuals and great detail. John Carmack's follow up to a classic series takes the game to a new level with a re-imagination of classic monsters such as the Imp and Pinky demon. For the test, we ran the benchmark at maximum detail and used a demo that was included in the game.
Far Cry
is Crytek's shooter that's set mainly outdoors. The lush foliage and long draw distance really set this first person shooter apart from many that were coming out a few years ago. All details were set at maximum for the benchmark.
Call of Duty 2
is a sequel to one of my favorite shooters of all time. Infinity Ward has really pushed the PC hardware with the new engine that powers the game. The incredible smoke effects and detailed models makes
Call of Duty 2
a visually impressive game. Benchmarks were done with all settings set to maximum and forcing DirectX 9. A custom recorded demo that we recorded was used to benchmark the game.
If there's one game that really suprised me it was
F.E.A.R.
The Monolith horror shooter features some of the most impressive graphics on the PC. There are plenty of physics and particle effects and the models are really detailed. We used the built in performance test and all the settings were set to maximum.
We ran two products,
F.E.A.R.
and
Doom 3
, in our image improvement testing phase. With the two games, we ran the card at both 4xAA 8xAF and 6xAA 16xAF. Below are the two games in various resolutions.
The card is slower than the older
GeForce 6600 GT
in
Doom 3
but is well ahead on all the other games tested. For games utilizing the
Doom 3
engine, you might want to consider the NVIDIA brand if that's all you play. For all the other games tested though, the
Raden X1600 XT
does come out ahead in all aspects. At around $30 more, you do get a little more powerful card but there's another added value as well. If you like to watch H.264 videos or do some video conversion, ATI's got some new drivers and utilities that only work with the X1XXX series, which this card is a part of. You'll be able to take advantage of hardware assisted decoding of H.264 video as well as use ATI's very easy video conversion tool. AVIVO does make this card a very good buy for those that want to use in both gaming and multimedia.
The PowerColor
Raden X1600 XT Bravo Edition
ran pretty well throughout the tests. There weren't any image artifacts nor were there any lockups when performing the tests. I also ran the card on a 24 hour
3DMark06
loop test and the card passed without any problems. This is my first card from the company and the card gave me no problems at all. If you're an ATI fan and are interested in a good card without breaking the bank, the PowerColor
Radeon X1600 XT Bravo Edition
should be on your list of cards to consider.