I first saw ECS Crossfire boards at the nice ECS Editor's Day they held about half a year ago. Both the Intel and AMD versions were there. Flash forward a few months and ECS releases the Intel Crossfire board. It was an interesting choice as gamers tend to favor AMD products. At this year's CES, I saw the AMD Crossfire board first hand rather than in a case at the Editor's Day event. I was finally able to get my hands on the
KA1 MVP
to give it a run through so let's see how this board does. This isn't my first taste of an Xpress 200 board but it's my first full retail board. The one I looked at earlier was a pre-production model and this is the first full Crossfire board I've been able to get my hands on. The
KA1 MVP
follows close to the
KN1 SLI Extreme
layout. If you've seen recent ECS boards then you'll be familiar with the color scheme. The purple based PCB supports socket 939 processors including the dual core lines. If you are looking for an AM2 Crossfire board, you'll have to wait a little longer.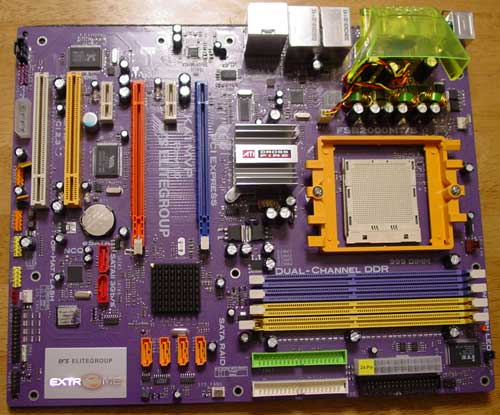 The Northbridge consists of the ATI RD480 while the Southbridge is the SB450. Both contain a heatsink without any fans. Less fans means less noise and that's good in my book. The RD480 allows for Crossfire support as evident by the two PCI-E x16 slots on the board. Now the RD480's being replaced with ATI's latest RD580 or the Xpress 3200 so if you're thinking about this board, know that a new chipset is already out there. Four 184-pin DIMM slots give you a maximum of 8 GIGS of memory.
The SB450 is known for lackluster USB 2.0 performance. If you plan on using a USB hard drive, you'll be waiting a little longer than normal. But for those that just use USB for thumb drives and input devices, the USB performance shouldn't be an issue. In my point of view, I don't know of anyone that runs a USB drive for long periods of time. There are instances where using a USB hard drive to transfer large files is convenient, but you're probably not going to do it enough to care about the sub-par USB transfer rate of the SB450. A big plus for the SB450 is Azalia support. I'm happy to finally see AC '97 being phased out and the move to higher end integrated audio being put in its place. The SB450 lacks SATA II but that's taken care of by the SIL3132 controller onboard for two SATA II ports. The additional four SATA ports are supported by the SB450 Southbridge.
Since this is a Crossfire board, two PCI-E x16 slots are available if you do have a Crossfire setup. When using one video card, a shunt card is placed in the top most slot while the second slot is the main video connection. Single card operation gives you the full x16 channel while using two cards knocks them both back to x8. There are also two x1 PCI-E connections with one situated between the two x16 slots and one after the second x16 slot. Rounding out the expansion set are two PCI slots.As with a few of the Extreme boards, the
KA1 MVP
has two integrated LAN ports and like the others, one is a Gigabit LAN and the other is a 10/100 variant. I'd like to have seen both support Gigabit but that's a relatively small issue.
Recent ECS boards in the Extreme line have come with a lot of cables and add-ons and the KA1 MVP is no exception. Besides the various SATA and IDE cables, ECS has included a nice little front plate if you rather have the extra USB and Firewire ports on the front of your computer. Top Hat flash is included as well in case you need to be saved from a BIOS update gone wrong. The CD packaged with ECS software has some nice utilities to go along with the motherboard.
The
KA1 MVP
was one of the few boards that are ATI certified when we received it a few months ago. This means that ECS has participated in the program to be tested and certified by ATI. It's a voluntary certification and it's nice to see ECS go through program to ensure their motherboard adheres to ATI's specifications. You can see all the certified products
here
with ECS leading the way on motherboards with 3.
The BIOS used by the KA1 MVP is the AWARD BIOS and as such offers some decent overclocking options. Max CPU voltage is at 1.550V while memory tops out at 3.0V. If you want to increase the clock in the CPU, the BIOS lets you increase in 2MHz increments with a max increase of 30MHz. One thing I do know about ECS is that whenever I had problems they were quick to turn around with a BIOS to help fix the situation.
There are a few issues I have with the board layout. One is the two very small clips on the PCI-E x16 slots. ECS has been inconsistent with how these clips should be with some boards having a combination of a long and short clip such as the ones in the
KN1 Extreme
board. It's really hard to get finger in there to pop the card lock with such a short clip so if you change cards out a lot like I do, this is rather annoying. Another issue is the placement of the 12V connector for the CPU. Situated near the green vent fan, a capacitor, and a fan connector, this plug is very hard to reach at times. The Molex connector to provide more juice to the board during dual card operations sits on the far opposite end by where most power supplies would sit. That means you have to route a long Molex connector across the motherboard to the connector on the other end. Finally if you have a long video card, one of the SATA connectors is pretty much unusable as the card will block the connection. As you can see in the picture, a better place for the SATA connectors would be the large Extreme sticker on the motherboard. A swap of the two would've been perfect so that none of the SATA connectors would be blocked.
So our test setup included:
AMD64 3800+
512MB PC3200 RAM
ECS KA1 MVP Crossfire motherboard (of course)
Leadtek PX6600 GT TDH
Windows XP w/ Service Pack 2
Maxtor 120 GIG 7200RPM HDD
To start I installed a clean Windows XP OS with all the current patches and fixes to the operating system.
3DMark®06
is the worldwide standard in advanced 3D game performance benchmarking. A fundamental tool for every company in the PC industry as well as PC users and gamers, 3DMark06 uses advanced real-time 3D game workloads to measure PC performance using a suite of DirectX 9 3D graphics tests, CPU tests, and 3D feature tests. 3DMark06 tests include all new HDR/SM3.0 graphics tests, SM2.0 graphics tests, AI and physics driven single and multiple cores or processor CPU tests and a collection of comprehensive feature tests to reliably measure next generation gaming performance today. We tested at the standard 1280x1024 resolution.
PC Mark 05
is the latest version of the popular PCMark series. PCMark05 is an application-based benchmark and a premium tool for measuring overall PC performance. It will run through a series of tests from memory to CPU.
iD Software's
DOOM 3
offers great visuals and great detail. John Carmack's follow up to a classic series takes the game to a new level with a re-imagination of classic monsters such as the Imp and Pinky demon. For the test, we ran the benchmark at maximum detail and used a demo that was included in the game.
Far Cry
is Crytek's shooter that's set mainly outdoors. The lush foliage and long draw distance really set this first person shooter apart from many that were coming out a few years ago. All details were set at maximum for the benchmark.
For the stress test, I ran 3DMark06 on a continuous loop for 24 hours with the Leadtek NVIDIA card in place. The board handled the test without a hiccup and the test continued to on throughout the night and day.
I threw a lot of different types of video cards at the board and the KA1 MVP didn't miss a beat. I've already written a few video card reviews with this board and it provided the stability needed to get through all the tests without any lockups. Whether it was a NVIDIA card or an ATI card, the KA1 MVP held up great through it all. It's unfortunate that I didn't have a Crossfire setup to test this board with however.
Ok so the board performed well for its class and it is rather inexpensive for a Crossfire board. ECS has done a good job in that department. The problem I have, and that's because I change parts a lot, is the placement of certain items. Now if you're going to build a computer and not change anything around a lot, this board will suite you fine. It's stable and gives you some good options. Overall, I do like the price and stability of the board and that's really the most important issue. The KA1 MVP should be on your list of consideration when shopping for an RD480 motherboard.