Up until now, if you wanted OTA HDTV and a good analog card that used hardware encoding via an ATI solution, you had to use an
HDTV Wonder
along with a
TV Wonder Elite
. By combining the two, you had a nice little multimedia setup. ATI is finally merging the two into one card and that's the brand now
TV Wonder 650
. The
TV Wonder 650
will let you watch OTA high-definition programming, analog TV, and listen to FM broadcasts. Sure, the
HDTV Wonder
had an analog tuner as well but it didn't feature the hardware encoding needed to get great picture quality and to lower CPU usage. With the
TV Wonder 650
, you can now have it all in one nice little package.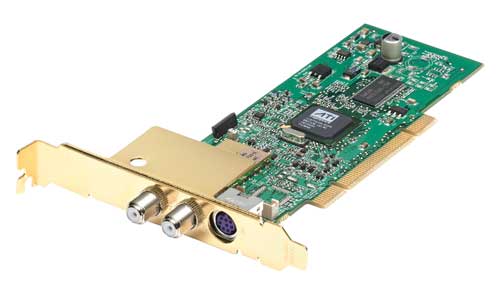 The card is being advertised as made for Windows Media Center 2005 and I agree it would be a great card for the OS if everything comes together nicely. We won't know until we get the card in the labs here but so far the specifications announced makes it look like a very good buy if you want a new tuner, add a tuner, and add a HDTV tuner in your system. If you don't have Windows Media Center 2005, ATI has included a new Catalyst Media Center designed to give you a nice graphical interface similar to other PVR programs with big colorful icons.
AVIVO is a feature of ATI products that I really like and the
TV Wonder 650
will be including the AVIVO video converter. With this tool, you can convert most media formats from one to another. Say you have a PSP and you'd like to take a show you recorded using the card with you. The AVIVO video converter will do it for you easily and painlessly. The list of formats it can convert to encompasses many of the popular formats out there.
As with most of ATI's multimedia products, the
TV Wonder 650
will also come bundled with their RF remote that's been a staple of their multimedia line for a while. The remote, since it works via RF, can control your computer without line of sight. It is rated to work at 30+ feet so if the conditions are right you can get some good range on the remote.
If you're thinking about Vista, the
TV Wonder 650
is ready so when the OS comes out you can use the card along with Vista's PVR capabilities.
We should be getting a review sample of the card soon but in the meantime we have a screenshot of the card itself along with the box. If the past is any indication, this follow up to the
TV Wonder Elite
and
HDTV Wonder
should be a winner for ATI and multimedia enthusiasts.