It's been a long time coming but ATI's next PCI-E All-in-Wonder card is finally here. It's not using the fastest GPU from them now though but what it has is still pretty good. For gaming and multimedia, we're going to look at how the All-in-Wonder X800 XL stacks up.
It's not the first PCI-E All-in-Wonder card from ATI though. That honor goes to the All-in-Wonder X600 Pro. But if you are in the market for a PCI-E All-in-Wonder card, your choices are very limited with this and the X600 Pro. Consider that the AGP has a plethora of cards in the line, it'll take some time before the PCI-E offerings catch up what are available for the AGP slot.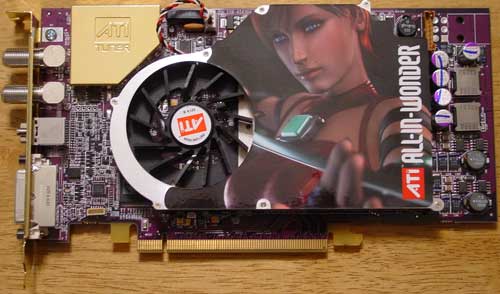 The All-in-Wonder X800 XL builds off the .110nm manufacturing process and has 16 pipelines with 256MB of GDDR3 memory. The R430 is clocked at 400MHz while the memory sits at 490MHz (980MHz DDR). Pixel fillrate is at a potential of 6.4 Gpixels/sec and a geometry rate of 400Mtriangles. Specifications for the card are the same as the regular X800 XL. With that, I expect to see the same performance from the two cards.
Physically, the card features a large heatsink fan with good ole Ruby on the front. The setup covers a good portion of the card so that it can cool many components down. The microtuner on this board is even smaller than the one that's on the All-in-Wonder X800 XT. Instead of a perfect rectangle, there's an angled portion where the fan on the card butts up.
The connections for this card mimic the All-in-Wonder X800 XT I reviewed a few months ago. First of all, there's a hub connector that plugs into the video card. From there, you can plug in two stackable video input boxes. Each box has certain groups of connections such as various video inputs or outputs. ATI has always been good at providing connection options for their All-in-Wonder cards and it's no exception here.
As with all the All-in-Wonder cards, the software suite that powers it all is Multimedia Center. Version 9.09 was available on the disk. Now I don't mind Multimedia Center and have used it in the past but it's starting to show its age. But if you have a copy of Windows XP Media Center 2005, you're in luck. Recent releases of drivers allow for this card to work with the Microsoft HTPC software suite. I have three boxes at home running XP Media Center 2005 and one uses the All-in-Wonder card. The quality of the video when using the card was pretty good and comparable to the hardware TV cards such as Hauppauge's PVR-150.
But if you have to use Multimedia Center, it's got all the tools to get the job done. There are always updates to the software and it's a very capable application. I prefer the presentation of BeyondTV or Windows XP Media Center 2005 but there's not much MMC can't do. One thing that it does that Windows XP Media Center 2005 doesn't do is let you tinker with the quality of your recordings and what format you'd like to record your shows in. Another is that you can record radio, something XP Media Center also doesn't do. Both of these features are available in MMC. If you don't have time to listen to your favorite show on the radio, just set it up to record. With the popularity of MP3 players these days, you can easily transfer these recordings to one and listen to them at a later time. I use a few programs to compress my recordings on Windows XP Media Center 2005 but with MMC, you can easily tell it to record directly into the format you wish.
To help clean up the picture, the software uses some of the card's pixel shaders. Videosoap, as it's called, applies filters to help improve the picture quality. When adjusting the picture with Videosoap, you can view the original and cleaned up image to compare out it looks with the included side by side preview option. Use the option for both cable TV and on your recorded videos to generate a better picture. While it won't help all, it will improve some video and give you a better picture. I've been pretty happy with how Videosoap worked on a few of my channels that I don't get a good reception with.

Given the increasing number of TV optimized front ends and PVR programs, ATI has developed their own GUI titled EAZYLOOK. EAZYLOOK does help make the application more user-friendly when using it with a TV. The large friendly icons provide an easy recognizable interface when using MMC. EAZYLOOK does offer an improved interface over the more PC oriented look of MMC and one that is great to use if you plan on using this card strictly for a home theater PC setup.
ATI has included the Remote Wonder II with the bundle and I've had experience with the remote. It's a solid remote and one that has the ability to use an IR blaster that connects to the base when the support for the function is released. Until then, it's still a good RF remote that has a good layout and feel. The receiver unit is rather large though and takes up a good amount of room and receives signals at a 433MHz band. The range that the remote is rated at is 60 feet but I only reached around ¾ of that distance before it became inconsistent. That's still a good distance away and you might get better range depending on your environment. I did get the remote to work through a wall though so I could hide the computer and receiver out of sight and still be able to operate the multimedia functions. This could provide a nice clean environment for your multimedia room as you can have everything hidden away and still work the system with the Remote Wonder II.
Combine the remote with EAZYLOOK and you'll have close to an interface that mimics BeyondTV or Windows XP Media Center 2005. You can easily shuffle through the various MMC functions with the remote and the different skin colors give you some diversity.
Watching TV with the All-in-Wonder X800 XL worked out really well and offered similar experience as the last All-in-Wonder card I tested. Picture quality, while not in the TV Wonder Elite range, was still pretty good. I spent numerous hours watching, pausing, and rewinding live TV along with recording various shows in various formats. The card held up without any problems and provided me with a solid experience. You won't be able to use a console to play games on your computer as there's a slight delay with the picture signal. Other than that minor quibble, the All-in-Wonder X800 XL's TV functionality worked like a charm. Below you can see a graph of my CPU usage and it's hovering around 35-40% most of the time.

The other functions such as the DVD player, file player, and CD player round out a fully functional suite of multimedia applications that worked well. I didn't have any problems with my CDs or DVDs that I put through the testing phase. DVD quality was good as well. The FM function offered radio with many of the time shifting functions as well as recording capabilities. If you are using Windows XP Media Center 2005, the FM reception will also work with Window's program as well giving you radio capabilties.
So now let's get to testing game performance. The card should be matching Sapphire's Radeon X800 XL that I have since the specifications are the same. We used Catalyst 5.8 drivers for this review. The test system consisted of:
AMD64 3800+
ECS KN1 Extreme
512 MB OCZ PC3200 RAM

80GIG 7200RPM Maxtor HD

Windows XP Professional w/ Service Pack 2
So let's start of with Futuremark's
3DMark05
.
3DMark05
is one of two synethetic benchmarks we are using today. From their website:
It is the first benchmark to require a DirectX9.0 compliant hardware with support for Pixel Shaders 2.0 or higher! By combining high quality 3D tests, CPU tests, feature tests, image quality tools, and much more, 3DMark05 is a premium benchmark for evaluating the latest generation of gaming hardware.
Half-Life 2
is Valve's sequel to the mega hit of five years ago. The game features incredible physics and highly detailed graphics. We used to built in benchmark to test the board out.
Doom 3
is iD Software's re-invention of the classic game that started the deathmatch craze. The engine really taxes a system and the graphics are phenomenal for a computer game. For the tests, we ran the game with Max settings here.
Far Cry
is an impressive first person shooter from Ubi Soft with great outdoor levels and some awesome effects. The vehicles and the ability to explore the entire island makes this one of the best games of the past year. Settings were maxed out and we used the default demo.
Performance of the card for games is on par with the X800 XL we reviewed earlier from Sapphire. As the specifications match the non-All-in-Wonder variant, the All-in-Wonder X800 XL performed as we expected it to. There are plenty of cards out there now that are faster in both the ATI and NVIDIA line but it's not like the card's slow in any sense. It will play many current games at very acceptable speeds.
Ok the card's late. It was announced a while ago and it's finally making the rounds. But as with all the All-in-Wonder cards, you get a lot of functionality for the money. The software suite that is provided gives you a lot of multimedia editing capabilities. It's not the fastest GPU from ATI though and even the AGP folks have the X800 XT version. While the X800 XL 's game performance is starting to lack compared to the cards out there, it's still got some punch to it. If you have a PCI-E motherboard and want an All-in-Wonder card, this would be the better choice of the two available. A feature I'd like to see in the US version of this card is ATSC support but you can get an HDTV Wonder to pair up with the All-in-Wonder X800 XL if you want to watch OTA HD content. I'm also waiting for the team to incorporate the Theater 550 chip onto the line as well. I'm curious as to why they have not pushed for that yet, but a combination of the Theater 550 and the X1K cards would make for a killer All-in-Wonder card. I'm glad to see the All-in-Wonder line going to PCI-E and really look forward to more coming from ATI in this area.