AMD's AM2 chips have been out for a while now but I haven't had a chance to make the jump to it yet until just recently. With the price cut, it just didn't make sense to hold off any longer. With the AM2 comes the move to DDR2 for the AMD line. With those two products in my hands, I was ready to handle reviewing an AM2 motherboard. ECS, who's been very generous in the past, provided us with their flagship AM2 board, the
KA3 MVP Extreme
. Let's see how this board compares to their previous Crossfire offering, the
KA1 MVP
Extreme
.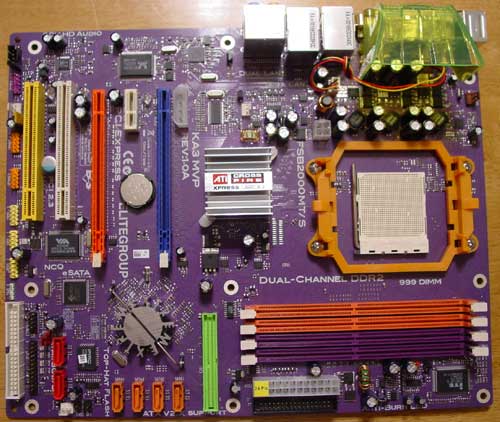 The
KA3 MVP
Extreme
sports the Radeon Xpress 3200 (RD580) chipset and supports the AM2 line of AMD processors. The
KA3 MVP
Extreme
, like it's predecessor, is a Crossfire capable motherboard meaning you can use two ATI Crossfire capable cards to get some nice performance boost in games. The motherboard looks to continue on the line of good offerings by ECS since they did an overhaul on their image in offering low priced motherboards.
Taking a look at the board, you'll see the same familiar color scheme that's been prominent in their recent Extreme line. You'll either hate it or like it. For the most part, I don't mind the wild color scheme that ECS has but they seem to be switching from the brighter purple for future products. If you're one of those that likes to show of the internals of your computer, then the ECS coloring scheme might turn you off a bit.
The board, of course, houses the AM2 socket for the next generation AMD64 processors. At the CPU area, the area's pretty free of capacitors except for one edge where the heatsink housing sits. You should have plenty of room for some oversized coolers with the clearance around the CPU. Off to one of the corners is the CPU power connector.
With the AM2 processors comes support for DDR2 memory. The board sports four DDR2 slots for ram up to 800MHz. For dual channel purposes, the slots are color coded so you can easily tell which two need to be populated. The sets that are colored the same sit next to each other on the board rather than in an every other configuration in some motherboards.
The RD580 northbridge sits between the first PCI-E slot and the CPU socket. The nice thing about the ATI chipset is that it only need a passive cooler. With the trend these days to quiet a PC down, it's nice to see that there's one less fan on the motherboard to cause noise. It might be offset by the fact that there's a fan for the capacitors near the CPU but you can probably disable that fan without causing problems provided you have good airflow through the case.
Two PCI-E X16 slots with a single X1 slot gives you the Crossfire and SDGE connections. What's nice about this board compared to the
KA1 MVP Extreme
is that you won't need to plug in a shunt card if you are just using one video card. If you do plug in two cards that take up two slots, you'll be left with only one PCI slot for expansion. The terrible tiny locking clips makes their return here and I wish ECS would put on clips with full length handles so changing cards wouldn't be such a hassle. If you have pretty long cards and want to change out, you'll either need to have very tiny fingers or snake a tool down there to pop the clip. Please ECS, put some better locking clips for the PCI-E slots next time around.
If you're not going to use the second PCI-E slot, you'll have two PCI expansion slots accessible. While I do like that most of what you need is on the board, I would've liked to have seen some more expansion slots. But, the lack of a few PCI slots enables all the connections to be moved closer to the side of the motherboard and allow for video cards to not interfere with the clips near the ram slots like previous boards. You'll see that one of the PCI slots is painted yellow. This slot was made for cards that need some good filtering circuits such as audio boards. It's the place where you should plug a card like the X-Fi sound card. Next to all the slots are an LED tha blinks when there's no card or something is wrong. It can be a little annoying since most of the time, you won't have all your slots filled and there will be some LED blinking away. A choice of changing it to only blink or light up when a card is inserted would've been a nice feature to alleviate the annoyance. If you need to supply some more power to the video cards, a Molex power connector is located next to the first PCI-E slot. This position should make it easier for cords to reach.
To connect storage options, the board features two IDE connectors, one floppy connector, and six SATA connectors for plenty of connecting options. The SB600 is responsible for four of the SATA connectors with a JMicron JMB363 responsible for the other two and one of the IDE connectors. Long video cards could interfer with four of the SATA connectors so make sure you connect them first before you try to plug in a video card. Plugging in my ATI
All-in-Wonder X1900
caused two to be blocked as you can see in the picture below. Otherwise, the location of the SATA connectors are pretty good relative to the board. Four sit on the edge of the motherboard so you don't have to route the SATA cable in too much while the two coming from the JMicron sit in a little and near an IDE connector.In previous Extreme boards, there was a big silver sticker that took up a good amount of real estate. That's long gone now and I'm glad ECS decided to do away with it. It wasn't anything useful and it took up area that would've been used for better things. The Extreme brand is still here though as you can see from the design of the
southbridge
heatsink
. The aluminum
heatsink
sits low enough so there's enough clearance for video cards.
Something I do like about the board is that the internal USB and Firewire pin-outs are on the edge of the motherboard as well. They are also grouped together so they are easy to find. One of the things that annoyed me about some motherboards is that the pin-outs were sometimes spread out across the board. ECS made a smart decision to put them all near each other and away from the middle of the board.
That florescent green cooling fan near the capacitors by the CPU is on this board as well. Well it wouldn't be an Extreme board with out it. The fan helps draw hot air through the capacitors to prevent overheating. It's a simple method but can annoy those that want to silence their computers. The fan doesn't generate that loud of a noise though so most people won't mind it running. I can't see the fan moving that much air as it's rather small but every little bit helps. Because the fan takes up the space where the parallel port normally is, ECS has included a parallel port bracket for those still using the connection for their older printers.
Realtek
ALC883 gives you 8 channel audio if you decide to use the on-board feature. There's the usual six 1/8" connectors but the board also features two digital connections with one being SPDIF and the other being coaxial. The SPDIF connection also has a nice little cover that protects it from dust and folds in when you plug a cable in. It's certainly a lot better than the products that have those little plastic plugs that can easily be lost.
A staple of the Extreme series is the dual LAN connectors. Again, ECS has opted to only include one Gigabit connector with the other one being a 10/100 type. Whether it's to save some costs or some other issue, I would've liked to have had two Gigabit connections here but I'll take one over none.
The rest of the rear connectors encompass the traditional connections such as PS/2 peripherals, serial connectors, and a parallel connector. Nothing new or fancy in this area but you get all the connections you should need here. ECS has also included a bracket for external USB and
firewire
connections. They were also nice enough to have a front mounting bracket as well that you can use in place of a 3/5" drive bay in case you want the connections on the front. Finally, an external SATA connector bracket is there for connection of SATA devices via an external case.
The BIOS featured in the
KA3 MVP Extreme
offers some improvements over the
KA1 MVP Extreme
. For starters, there's now greater fan control in the BIOS. If you want to tweak all the fans you'll be able to access them in the menu. For
overclockers
, most of the options are here except there are a few missing settings for memory such as CAS latency. This isn't nothing that a BIOS update won't change and in the past, ECS has been good at providing BIOS updates to me but it takes a bit of time to get to the general public.
ECS has always been good about giving you plenty of cables and software and this setup is no exception. You can see in the few pics below the amount of cable that come with the board. You should be pretty set with what's provided to you here. The software included also encompasses a wide range of utilities and applications. The included
Showshifter
is a nice little DVR program in the likes of
SageTV
and
MythTV
. They're recently coming back from being discontinued so you should get some continued support for the program.For the test setup we have:
AMD64 X2 3800+
1 GIG Crucial Ballistix DDR2 PC2-6400 (2 sticks)
ATI All-in-Wonder X1900

Seagate

160GIG 7200RPM HDD
Windows XP w/ Service Pack 2

Catalyst 6.7 drivers
We ran it against:
AMD64 3800+
1 GIG Patriot DDR PC-3200 (2 sticks)
ECS KA1 MVP
ATI All-in-Wonder X1900

Seagate

160GIG 7200RPM HDD
Windows XP w/ Service Pack 2
Catalyst 6.7 drivers
The CPU scores should be a little faster on the non dual-core CPU as it does run at a faster clock speed.
3DMark®06
is the worldwide standard in advanced 3D game performance benchmarking. A fundamental tool for every company in the PC industry as well as PC users and gamers, 3DMark06 uses advanced real-time 3D game workloads to measure PC performance using a suite of DirectX 9 3D graphics tests, CPU tests, and 3D feature tests. 3DMark06 tests include all new HDR/SM3.0 graphics tests, SM2.0 graphics tests, AI and physics driven single and multiple cores or processor CPU tests and a collection of comprehensive feature tests to reliably measure next generation gaming performance today. We tested at the standard 1280x1024 resolution.
PC Mark 05
is the latest version of the popular PCMark series. PCMark05 is an application-based benchmark and a premium tool for measuring overall PC performance. It will run through a series of tests from memory to CPU.
Quake 4
is Raven Software's true sequel to the id classic. The game uses an improved
Doom 3
engine for some great graphics. For the test we ran a demo featuring a few enemies and some squad mates. The resolution was set at 640x480.
This old classic from Epic still looks great in today's age. We ran
Unreal Tournament 2004
at the lowest settings at 640x480 to take the video card out of it as much as possible.
Valve's game uses their own Source engine to produce some impressive results especially giving us such features as HDR and some great physics. The Lost Coast demo was used in the benchmark and the resolution was set at 640x480.
Prey has been in development for many years but the folks at Human Head finally released the game this year. The game utilizes the
Doom 3
engine like
Quake 4
and features the really cool Portal technology to garner some interesting game play aspects. A demo was ran at 640x480 for this test.
You can see that the performance flip flops between the two and I fully expected the
KA1 MVP
with the AMD64 3800+ to come out ahead in a few tests as that CPU runs a little faster than the dual core version. The performances were in line of what I thought they would be.For stability I ran
3D Mark06
on a continuous loop for 24 hours with all tests enabled. The
KA3 MVP Extreme
held up just fine and I haven't had any mysterious lockups or restarts with the system. The past few motherboards by ECS has been pretty solid and I can say the
KA3 MVP Extreme
is also solid as well.
Overall, the
KA3 MVP Extreme
is a solid board. There's nothing that really seperates this board from the others but the pricing is competitive. I did find some of the decisions in placement a little questionable and I never did like the clips that they use for the PCI-E slot. You'll have very little expansion room in terms of PCI slots if you're going to use Crossfire so I would've liked to have seen some improvements in that area. Other than that, this board should be considered if you're trying to find a Crossfire capable board and you do get a lot of extras in the box.
I'd like to thank ECS for the sample and Crucial for providing us with Ballistix memory. Crucial came in and really helped us out as our old DDR2 memory that we ordered was faulty and the Ballistix memory ran without a hitch.
Check out their memory
and pick some up for your machine.