Welcome to Hooked Up, the Gaming Nexus series that puts the spotlight on gaming related products that impact the Video Game experience. This week we take a look at Performance Designed Products (PDP) Kinect Sensor Wall Mount.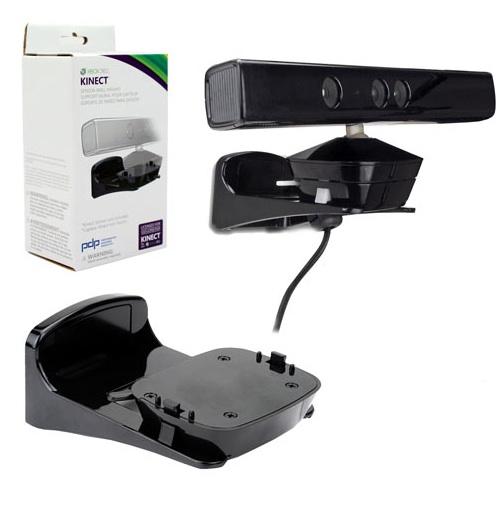 What is it?
The PDP Kinect Sensor Wall Mount is an officially licensed Microsoft accessory that allows you to quickly and easily mount your Kinect sensor bar to any wall. It comes with a metal wall-bracket, platform, base and hardware in black finish to mirror the Kinect sensor bar.
Impressions
Since the Kinect arrived in my household for Christmas 2010, we have had it connected to the 360 in the office for a variety of reasons. Unfortunately, it was sharing a desk top at about three feet high with a million other items. This was causing us to stand farther from the Kinect camera than we wanted to within the room and causing problems picking up more than one player. Having seen the PDP Kinect Sensor Mount in my local Best Buy, I decided to spring for it to try and get the Kinect sensor mounted on the wall beneath my LCD TV.
As soon as I pulled the mount from the box, I knew I made the right choice, as it is about a simple design as you could come up with. A bracket mounts to the wall, a platform slides onto it and then the Kinect sensor bar connects to a base that slides into the platform. It took me about 15 minutes to install (with the proper equipment and my own dry wall anchors and screws) and the location difference was immediately noticeable, as I gained 11 inches in height and 11 inches in depth. This allowed the camera to give us more space in the room, which is only about 12 feet across.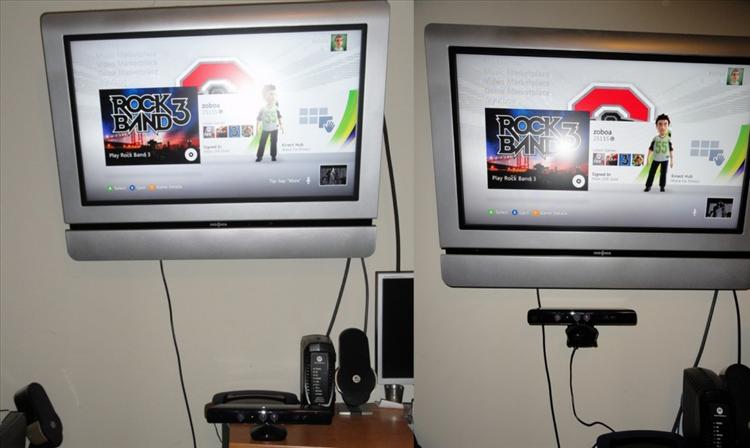 The big test was when I fired up my first Kinect title after installation (Carnival Games: Monkey See Monkey Do) and see how the new wall-mount location impacted the playing area as sensed by the Kinect. After playing my way through several of the mini-games with greater success than where it was mounted before, I switched to Kinect Sports. This title requires lots of room, and I found that the shortened distance needed for playing came in handy, as I set all kinds of new personal bests in events I played previously. Overall, I was very pleased with the PDP Kinect Sensor Wall Mount and how it improved my gaming experience.
Pros
Simple Design
Inexpensive
Easy to install
Base includes standard threaded mount for camera tripods

Cons
Included hardware (screws) is cheap and screws strip easily
Gaming Impact
Anyone that has added a Kinect to their Xbox 360 has probably struggled to find the perfect place to set or mount the sensor bar. I learned this early on at my local Best Buy where they had their sensor sitting on a TV stand in front of the display at height of about two and a half feet and a "pen" that only allowed you to go back about seven feet from the TV. It turns out that this low placement causes you to have to back up farther, and many times the camera cannot get your feet, torso and head all in the same frame unless you hit the 10 foot level in depth. As I mentioned above, we have had the sensor bar at about 3' off the floor and 7'5" in depth in the office. What I was finding is the same thing I saw at Best Buy, where the Kinect sensor had trouble keeping players in the frame and wanted us to keep moving back. The new placement on the wall eliminated many of the issues, as it was able to "see" us cleaner from head to toe and shortened up the playing area as needed by the Kinect. The gaming impact was immediate for me, as more space allowed us more room to play with nothing restricting our range of motion. As I mentioned previously, I played through several titles after moving the sensor bar and was getting much better results than in the initial placement.
The Skinny
The PDP Kinect Sensor Wall Mount is an excellent add-on to your Kinect system if you have the ability and the need to wall-mount your Kinect sensor. It provides a stable mounting platform and allows you to get the sensor bar to the height and depth that best fits your gaming area. It also allows the sensor to have a better "view" of the playing area, which in turn allows for those 14 points of reference to be picked up easier. For the price ($14.99) and amount of time needed to mount it (about 15 minutes) this is one of the better accessories that has been made for the Xbox 360.

Miscellaneous Items of Note
-The PDP Kinect Sensor Wall Mount is the official Microsoft Kinect Wall Mount
-Installation was quick and easy
-Although the included screws are not good quality, the Dry-Wall anchors are fine
-Deep channels on the back of the mount allow you to use your own drywall anchors and screws
Testing Methodology
The PDP Kinect Sensor Wall Mount was tested at a height of 4' 2" and a distance of 8'6" after mounting and connected to an Xbox 360 Pro. Mounting was performed using third-party 30lb drywall anchors with matching screws and not the included hardware.
Where to Find/Buy
The PDP Kinect Sensor Wall Mount can be purchased for $14.99 directly from
PDP
, the
Microsoft Store
,
Radio Shack
or
GameStop
.
If you have a gaming related product or accessory that you would like to see featured in Hooked Up, please
contact the Author
regarding inclusion.
About Author
I spent the greater part of my informative years glued to the front of a Commodore 64 after we wore out our Intellivision. If you were in the Toledo area surfing C-64 bulletin boards in the mid 80's, we probably have already met. When not running the BBS, I spent countless hours wandering around the streets of Skara Brae, as my life was immersed in The Bard's Tale series on the C-64. After taking the early 90's off from gaming (college years) minus the occasional Bill Walsh College Football on Sega, I was re-introduced to PC games in the mid 1990's with a couple of little games called DOOM II and Diablo. I went all-in with the current generation of consoles, getting an Xbox 360 on launch weekend as well as adding a PS3 and Wii in subsequent years. I now am into the next-gneration (latest?) of consoles with the WiiU and Xbox One. Although I havent taken the plunge on the PS4 yet, it has my interest peaked, especially as my kids continue to grow and their gaming tastes evolve.
While my byline is on many reviews, articles and countless news stories, I have a passion for and spent the last several years at GamingNexus focusing on audio & video and accessories as they relate to gaming. Having over 20 years of Home Theater consulting and sales under my belt, it is quite enjoyable to spend some of my time viewing gaming through the A/V perspective. While I haven't yet made it to one of the major gaming conventions (PAX or E3), I have represented GamingNexus at the Consumer Electronics Show (CES) in Las Vegas in eight of the last nine years.

I have been a staff member at GamingNexus since 2006 and feel lucky to have the opportunity to put to use my B.A. in Journalism from The Ohio State University. Although I have gone into semi-retirement as of 2014, I am still hanging around as a part-time contributor and fill in as needed.



View Profile